Our friends at Birch Lane Kids asked us if we could throw a party full of classic kid moments. We literally jumped at the chance. Take a look at all the fun we had planning this field day inspired party at home.
Do you remember field day?
Oh my gosh, a whole day at school devoted entirely to play!
Seriously, it's pretty genius. Why don't they do field days once a month in school? Remind me to find the person who invented field day and give them a proper shout out later. Cause they deserve it.
The world needs more field days I tell you.
I think it should be our personal mission as parents this summer to rekindle our love for this childhood rite of passage and pass these happy memories along to our own kids.
And if we can't do it while they're at school, or if we just an excuse for more family fun … why not throw an outdoor field day party of our own?
Can you imagine how much fun a father/son versus mother/daughter three-legged race could be? Just wait till you get all the kids in those potato sacks and the inevitable hilariousness ensues.
This is the ultimate end of the school year bash and a great summer party idea you can put together quickly on a very limited budget and invite the whole neighbor over for a full day of fun if you want.
How to have the best field day ever! … in your own backyard.
What's a field day or an outdoor party without a few games?
For our field day party we planned 6 backyard party games children of all ages could easily participate in. The only goal was to have the best possible time doing them all and keep the kids (and parents) laughing till their cheeks hurt.
I'm happy to report we did just that and the day was a smashing success!
OUTDOOR PARTY GAMES FOR KIDS
Potato Sack Race
To host your own potato sack race, all you need is a bunch of sacks and something to designate the starting line and finish line. We found our potato sacks here and we used these activity cones to mark out all of our games.
Our dear friend and contributor Haeley from Design Improvised made these adorable striped potato sacks. She's planning to share the process on her blog soon, I'll add a link here once she does.
Three-Legged Race
I think the kids had the most fun doing the sack races and the three-legged race. Oh, this was so fun! We kept they're legs together using these velcro ties.
Egg & Spoon Race
This event is a hoot because you get to see the kids personalities really shine. It's hard to keep those wooden eggs on the spoon! Some will show you how calm and determined they can be, others might flash you a glimpse of their inner cheater. A great chance to talk together about how winning isn't everything and when at first you don't succeed — try, try again!
Bean Bag/ Ping Pong Ball Toss
If you are on a flat surface like we are here using balls, you'll want an assistant posted at this event. Bean bags help to keep the running around to a minimum.
Hula Hoop Contest
Oh the girls had fun with this one! Some could twirl 2, even three hula hoops at the same time! Don't forget you can also twirl them around your neck, or arm, or use them as a jump rope. The fun is endless!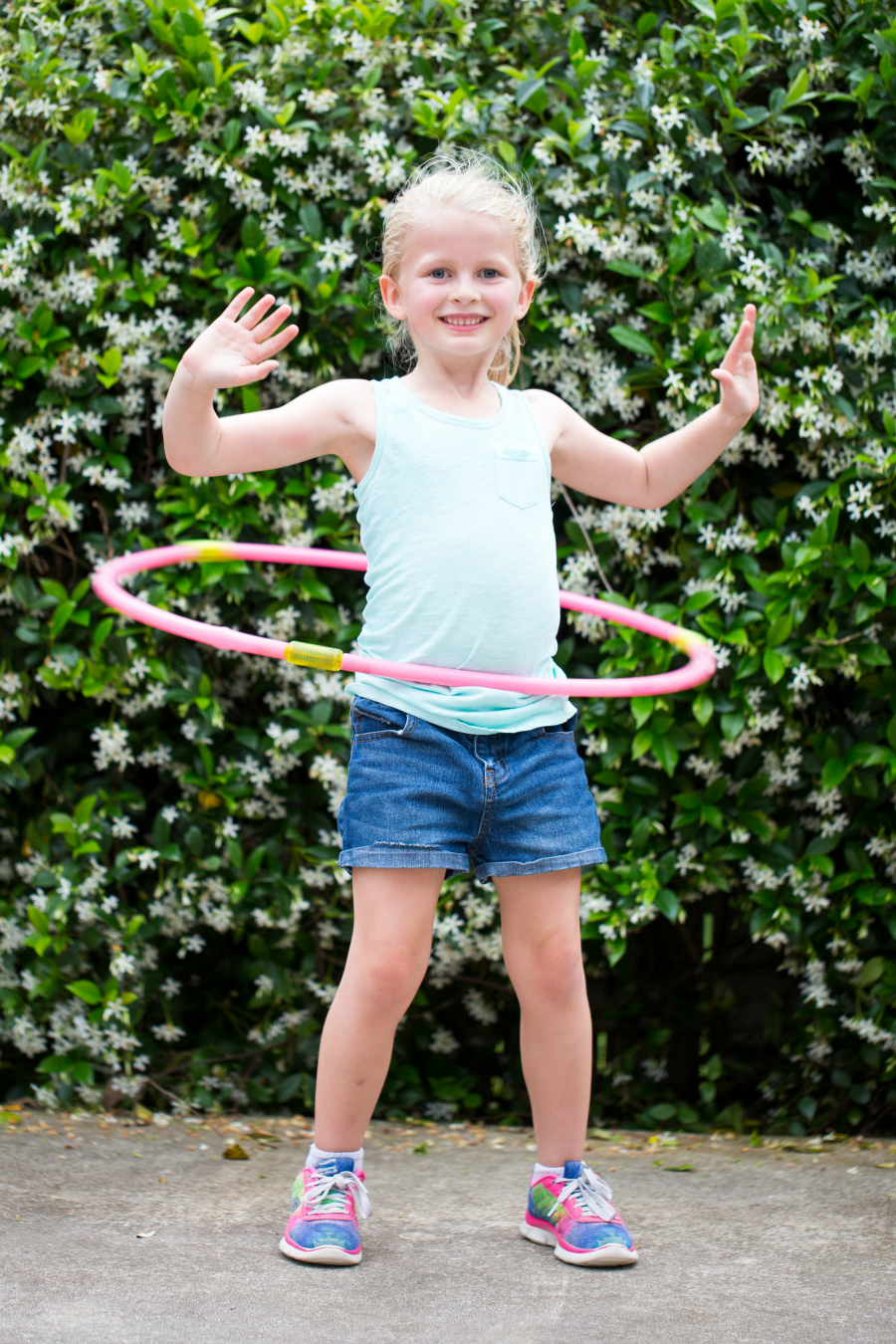 Ring Toss
You could easily DIY your own ring toss game, we might have to try that this summer!
Prizes
Race & Field Day Games winners were awarded colorful medals and inexpensive bubble favors (you can see some of them on the party table above)
I'll show you how easy to make these cute medals were in another post real soon. The kids LOVED them! and my guys have theirs hanging above their beds right now.
OUTDOOR PARTY SNACKS
Snacks were rice crispy treats with a few Trix Oops balls thrown in for some color. And watermelon wedges on a stick, it doesn't get any simpler than that. Outdoor party food should be simple and able to be eaten with your fingers (it just tastes better that way! or so I've heard …)
Sunscreen, water and popsicles are always a must-have for an outdoor party! Not pictured here was a bucket full of ice pops we had on hand in case the kids got overheated while they played. Heat exhaustion can sneak up on your quick here in Texas, so we have to keep our eyes out for overly red cheeks and make sure the kids take plenty of breaks, drink water and spend some time in the shade.
We hope you found plenty of ideas and inspiration here to help you plan your own field day party at home. If you have any questions or additional ideas for folks, drop them in the comments below. We'd love to hear from you!
SHOP THE STORY
I linked to many of the smaller items in the pictures below each activity, but here's some of our favorite pieces you might be interested in. The bulletin board held our medals and the canvas storage bin helped corral all the balls, cones, and bean bags we used in the games.
Little Artist Easel – $99
Birch Lane Tub Storage Bin – $49
Chalk It Up Garland – $22
Pin Up Bulletin Board – $55
Melissa & Doug Kick Balls – $10
Wooden Spoon Set – $18
We didn't get a chance to photograph the kids playing kickball because believe it or not, a hail storm interrupted our party right in the middle of the three-legged race! Crazy Texas weather, hope your field day party is nothing but sunshine and rainbows.
Disclosure: This party was sponsored by our friends at Birch Lane Kids. We love their children's furniture, bedding and decor and are so happy they chose to partner with us for this fun event.
Special thanks to Haeley of Design Improvised and her family for making this day so special for everyone and Candice Stringham of Handmade Mood for these amazing photos. Stay tuned for lots more summer party ideas and backyard family fun.