ToteSavvy is the modern alternative to a diaper bag combining the inner lining of a traditional diaper bag with your own handbag collection. The ToteSavvy insert includes an insulated bottle pocket, key clasp, changing mat, cell phone pocket, and flat pocket for paperwork. Love that hidden pocket for keeping you phone within arms reach!

We asked our most stylish mom pal, San Antonio Fashion Blogger of the Year Tori Johnson from The sTORIbook to try out a Tote Savvy insert and let us know what she thought. Here's what she said:
I'll be the first to admit that I'm anti-diaper bag. I can remember registering at a baby store for my first son and standing in front of display after display of some of the most unflattering bags on the planet desperately searching for one that didn't scream, "diaper bag!" Yes, I was one of those pregnant women that dangerously wobbled around in heels during pregnancy (at least for my first child and TOTALLY roll my eyes at myself now). I couldn't help but stare across the bag offerings wishing for something polished, chic and, frankly, one that looked more like the cute tote that I had hanging from my shoulder!
So you know what I ended up doing for my first son? I ended up using that super cute tote and then just proceeded to stuff all my baby necessities in to it. While it looked cute on the outside, if you opened it up you might get trapped in a black hole filled with diapers, wipes, rash ointment and more.
Well I guess another style-lovin' mama heard my plea from the black hole because she invented the best diaper bag alternative in time for baby number two! Enter the "ToteSavvy." ToteSavvy is a patent-pending organizational insert that can be placed in to your current handbag collection creating a fully-functionable diaper bag. It literally makes ANY bag in your closet into a modern diaper bag without the dreaded black hole of baby supplies piled in a mess at the bottom. It's made from a durable nylon twill so you can easily wipe it clean and has 11 pockets perfect for all your baby's (and mommy's) needs. There are larger pockets for clothes and diapers and smaller ones for cell phones, pacifiers, teethers and much more. It also stands upright so everything doesn't flop out and it makes it easier to access everything.
I love it because I can easily switch it between bags just by sliding it out and then back in another bag. You can see how I've styled it in my work briefcase and then shifted it into a more casual pool bag for a staycation at a local resort.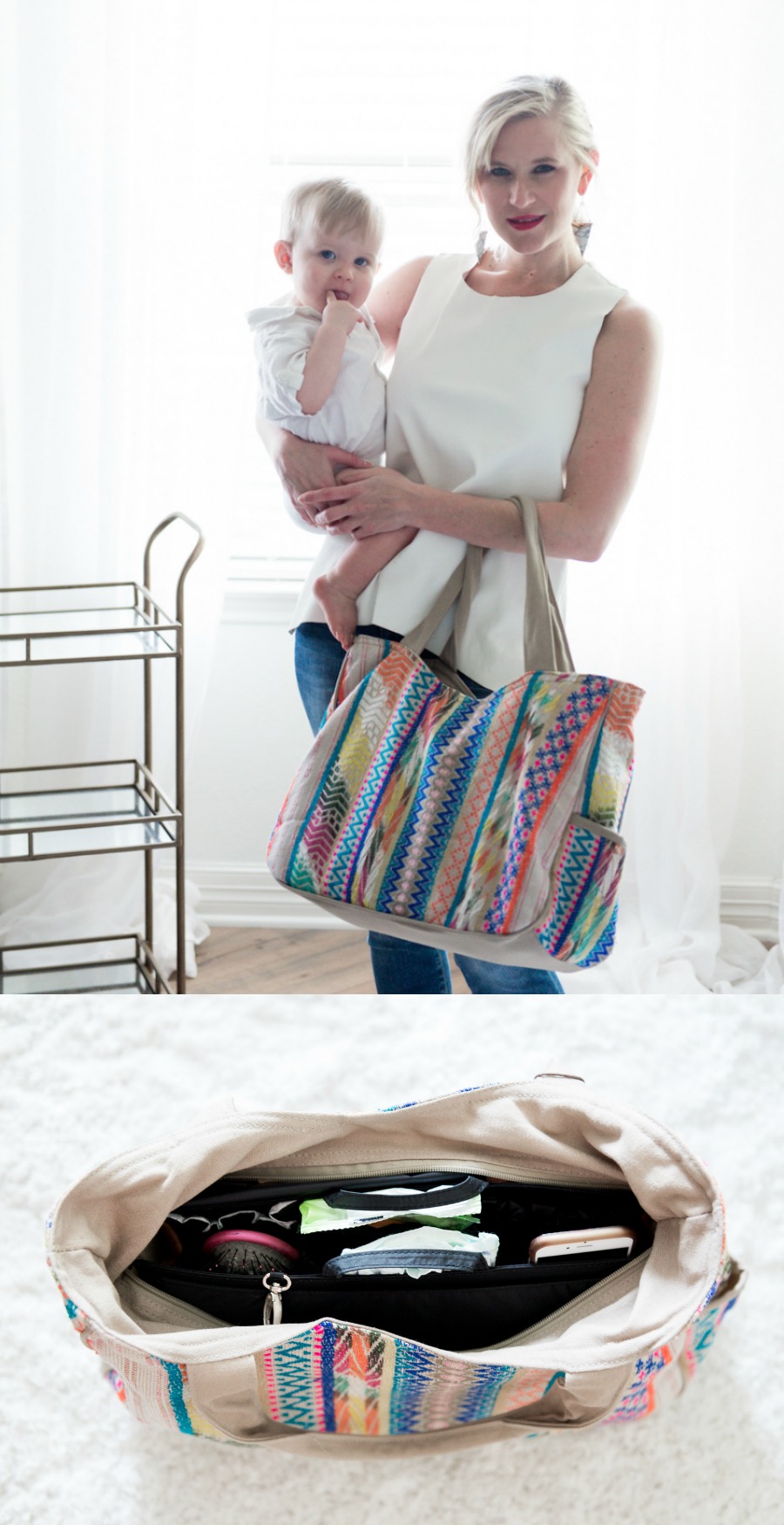 I love how it enables me to still be stylish and I don't have to spend money buying diaper bags that I'll only be able to use for a very small amount of time. In fact, I actually use my ToteSavvy even when I don't have the baby with me!
Curious about what I carry in my ToteSavvy insert?


[show_shopthepost_widget id="1637472″]
Big thanks to ToteSavvy for sending us an insert to try and Tori for testing it out for us, we seriously can't get enough of it and check out this sweet luxe red insert on pre-order right now!
New Luxe Red ToteSavvy Coming Soon!
Available in Classic Black or Soft Gray. Luxe Red and Coffee inserts coming soon. To learn more about ToteSavvy , check out their website or connect with them on social media.

Facebook | Instagram | Pinterest | YouTube | Twitter
Tori is an editorial stylist and fashion and beauty blogger at
The sTORIbook
, where she eamlessly intersects her impeccable style and edgy sophistication.
Tori was named San Antonio Fashion Blogger of the Year and has worked with a bevy brands including Neiman Marcus, H&M, Nordstrom, Lancome, Target, and many, many more. In 2015, Tori was also named one of Neiman Marcus' Women Who Rock.
Latest posts by Tori Johnson (see all)