It's been twelve years since I've seen their faces.
Twelve years since I held their hands.
Twelve years since I heard them call me my African nickname.
Now, more than a decade later, I have three kids of my own—three kids who will almost definitely never know hunger or worry or joy like the kids I met on a summer trip to Zambia.
And as I'm sure you know, hunger is no stranger to our continent, with reports that one in seven American children are currently underfed.
So how do I look into the faces of my babies (ages 7, 6, and 2) and tell them about a feeling that they probably can't even imagine? How do I explain to them there are more than 15 million children in America struggling with hunger right now? That in their school classroom of 28, four (four!) of their peers may be hungry on a daily basis?
For myself as well as for you, I've put together a simple guide to teaching kids about childhood hunger—plus one thing your family can do to contribute to relief.
A Short Guide to Teaching Your Kids About Childhood Hunger
Start by asking your kids if they can remember the last time they heard their stomach growl. When was the last time they can remember actually feeling hunger pains?
Then watch this video from Feeding America. It lays the facts out so clearly, and my kids we struck by the idea of having to choose which basic needs to meet.
If you're up for a second video, I highly recommend this one: Kids Respond to Child Hunger. It's touching to see real-life kids react to the news that people around them—kids they may even know—are going hungry. And it ends on a positive note, with all of the kids brainstorming ways that they can contribute to relief.
Talk to your kids about empathy. Share with them that although it hurts to learn about global problems and to feel like there's so little you can do about it, it helps us develop the quality of empathy, or the ability to use our sad experiences to help us better understand someone else's. (Here's an awesome animated video on empathy from Brene Brown.)
One Simple Thing You Can Do
Walmart is working with Feeding America, the nation's largest hunger-relief organization, to secure 75 million meals, served through participating food banks.
The great news is that you and I can contribute by buying specially-marked products at Walmart or by simply donating at the cash register. (I like to stick my kids on find-the-labels duty! It gives them something to do other than accidentally running our cart into fellow shoppers!)
Participating brands include Campbell Soup Company, General Mills, Kellogg Company, the Kraft Heinz Company and PepsiCo.
A conversation like the one I outlined above would feel unfinished without discussing some actions points.
From now until April 25, we have a simple but impactful opportunity to make a difference—by joining with millions of other Walmart shoppers to donate to hunger relief.
You can also use the hashtag #FightHunger across all social media to spread the word about Walmart's campaign, "Fight Hunger. Spark Change."
For every online act of support you complete with the hashtag #FightHunger, Walmart will donate .90 or the equivalent of 10 meals for families in need to Feeding America. Just think how quickly you and your family could donate 100 meals by tweeting, FBing or Instagramming!
"If my survival caused another to perish, then death would be sweeter and more beloved." Khalil Gibran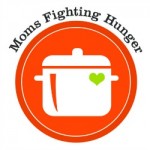 Disclosure: Today's post was sponsored by Walmart's Fight Hunger, Spark Change campaign in partnership with Feeding America.
To find out more about childhood hunger and hunger in America and ways you and your family can make a difference, check out our Pinterest board, " target="_blank">Moms Fighting Hunger.
Erica Layne writes Let Why Lead, a place for wholehearted women building wholehearted families. For regular reminders to step back and see the big picture, connect with her using the social media buttons above, or stop by letwhylead.com.
Latest posts by Erica Layne (see all)