Is there anything better than a rainbow?
The way the colors magically appear after a storm, a hint of sunshine after a gray winter, the whimsical imagination of a child looking for the pot of gold at the end of rainbow!
Something about seeing a rainbow just makes me feel lucky.
Today we're bringing a bit of that luck indoors with this rainbow printable shamrock banner we whipped for St. Patrick's Day. Here is how you can make your own!
Lucky Clover Printable Shamrock Banner
Supplies:
Free printable shamrock template
white card stock
paints
paintbrush
scissors
string
tape

Time: This project took no more than 30 minutes.
Process: Print out a couple sheets of the printable shamrock template on to card stock or watercolor paper, simply paint each row a different color of the rainbow (red, orange, yellow, green, blue, purple). I love involving my children in the creative process. My daughter was thrilled to paint each row for me. I used acrylic paint and watered it down a little bit, but you can use whatever paint you have. Once the paint is dry, cut out the clovers.
I originally tried cutting out each shamrock individually, but decided I liked the square shape more than the completely cut out clover. It offered a bit more color and the squares layed flat on the banner much better than the clovers.
Tip: I used one square as a template so that they all looked uniform.
Next, I turned each of them over and taped the back to a piece of string. I love how this project turned out and I hope you do too!
BONUS:
Here are some ideas on how you could kick this project up a notch:
Lay several finished banners across a table and use as a runner.
Wrap a strand around a St. Patrick's Day gift to add a little flair.
Hang a few on the wall at different heights to be used as a photo backdrop.
Add glitter on top of each color!
Wrap the banner around something as a St. Patrick's Day leprechaun prank.
You can find more rainbow activities and lots of sunshine over on my blog Cloudy Day Gray!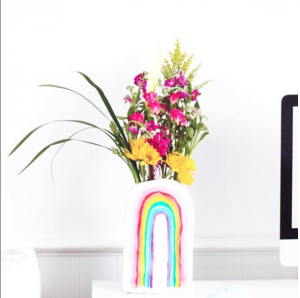 I am Kelly. My husband is Tyler. We have had a few cloudy days, but our life is anything but gray.
Latest posts by Kelly Smith (see all)