Hello, my name is Stacy and I am addicted to chocolate.
There, I said it.
I have a stash of chocolate stored in the house at all times and reach for it whenever I am stressed, bored, hungry, tired, angry, sleepy, [insert word here] … you get the point.
I've been working on keeping a smaller stash around … (what? I'm not giving it up completely!!) and I've found that if I have something extra special that I truly look forward to, something I can savor and enjoy for several minutes then I much less likely to devour an entire family size bag of candy.
Enter the homemade peppermint patty.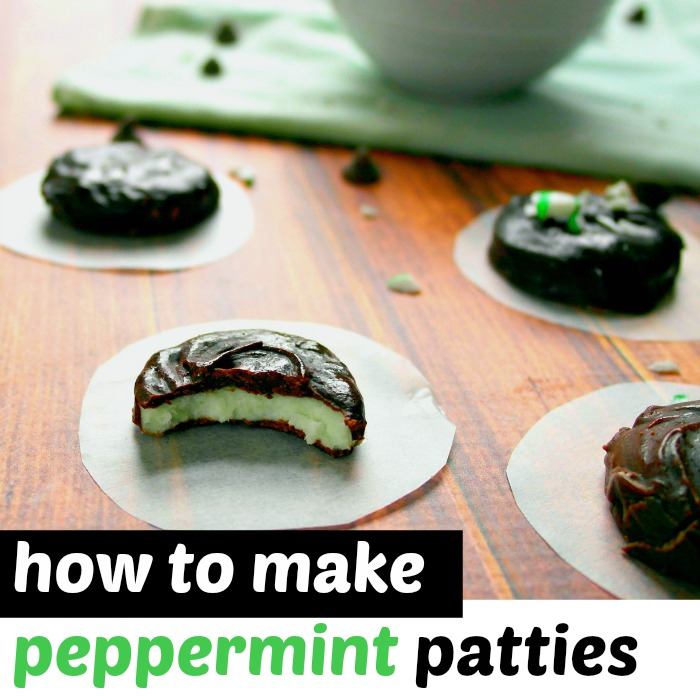 Mmm, so creamy and cool and chocolatey fresh. This is the sweet I've been waiting for! The one worth hiding in the corner of the kitchen when your kids aren't looking or staying up after everyone is in bed to eat all on your own.
It gets uber bonus points for being so simple to make, and easily customizable.
Green for St. Patrick's Day or Christmas
Pink or Yellow for Easter
Orange for Halloween
White any time at all
My favorite part about these homemade peppermint patties is I can whip up a bunch in just a few minutes. This helps me in several ways.
1. I'm not eating pounds of this stuff at a time!
2. I can whip up a batch in minutes or let the kids help and call it a family activity
3. I can control what kind of chocolate I'm using … hello Ghiradelli!!!
4. I look like freaking Martha Stewart when I whip out my homemade peppermint patties for friends and family
See, it's really a win win.
And if you want to look like freaking Martha Stewart while feeding your inner chocoholic then here is the simplest of recipes for you. It's almost too simple folks.

Homemade peppermint patties recipe
Ingredients
2 cups Powdered Sugar
1½ tablespoons Butter, softened
2 teaspoons peppermint extract
1 tablespoon milk
12 oz. bag semi-sweet Chocolate Chips
Instructions
In a large bowl, whip butter, milk and peppermint extract until smooth.
Fold in powdered sugar until it starts to resemble make a crumbly "dough".
It will be crumbly, do not worry!
Turn the mixture out onto a flat surface that has been dusted with powdered sugar, the same as you would a bread dough.
Work the mixture into a ball, the more you work it, the more it will come together.
If slicing- use plastic wrap to help create a "log" shape.
Tip: Freeze for 10 minutes, this will make the mix easier to slice.
While the mix is in the freezer, add the chocolate chips to a micrwave safe bowl. Heat for 1 minute. Stir.
Heat again in 30 second increments until melted and smooth.
Slice peppermint patties and dip in the chocolate.
Place on a cookie sheet lined with parchment paper.
Feed your inner chocolate monster!
She'll thank you later.