Today's post is sponsored by FLIPZ® Chocolate Covered Pretzels. Life is never boring with FLIPZ in the mix!
We take family time pretty seriously around here. From vacations and holidays, to weekends and even the time spent together each day after school. Any time our family is together is important time for us. One of our family's favorite ways to connect and unwind after a busy week is FAMILY MOVIE NIGHT!
We celebrate family movie night as often as we can, so we've gotten pretty good at it. There are a couple tried and true ways we've found to make family movie night awesome, so I thought we might share a few with you in hopes your family can establish an awesome family movie night tradition in your home as well.
Step 1. Save the Date
I'm pretty big on building things up and getting caught up in the anticipation of things. My kids have inherited this quirk of mine and I kind of love it. This way we can talk about family movie night all week and get more and more excited for all the things we're going to do together. By the time family movie night rolls around everyone is as excited as I am.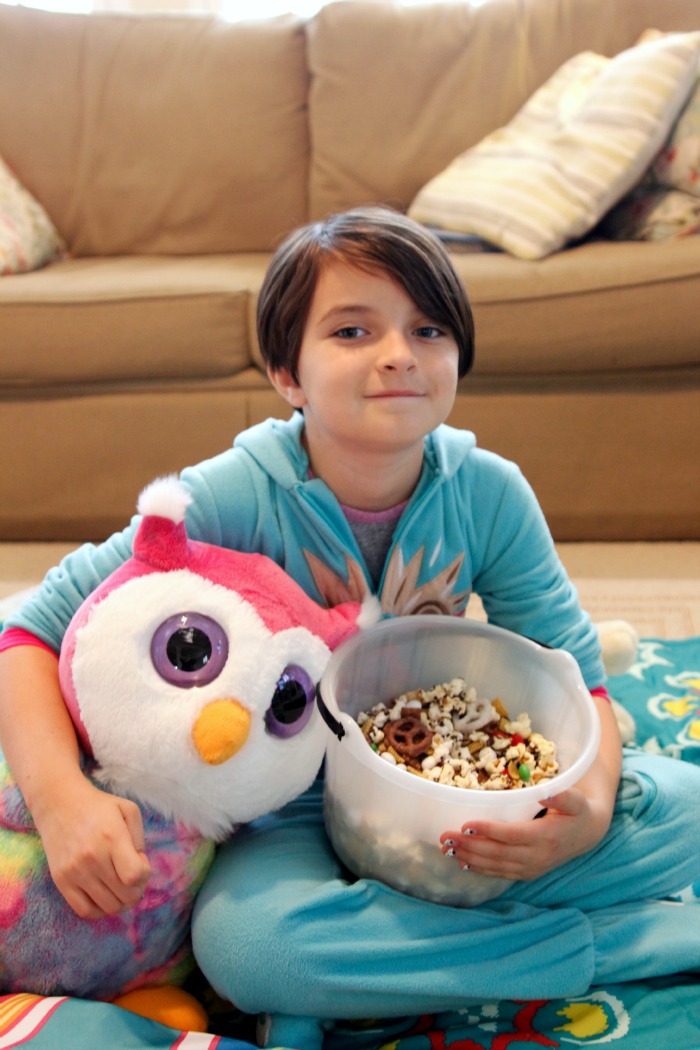 Step 2. Get Comfortable
It's not a family movie night, unless you're in your family movie night uniform. For us, that's cute & cuddly PJ's. They signify that we are winding down for the evening, getting comfortable and ready to lounge as a family.
Speaking of lounging ….
Step 3. Set the Stage
What's a family movie night without a bunch of comfy pillow and cuddly stuffed animals to lounge around on. We make a large pallet on the floor using blankets and quilts and bring our favorite pillows and stuffed animals from our bedrooms.
More often than not, the kids will crash on the floor or on the sleeper sofa in the living room after the movie so we might as well be prepared! Sometimes during the summer I even let them pitch their tents in here and we watch movies from inside in our sleeping bags. I miss summer … just a couple more weeks until winter break though.
Step 4. Don't forget the snacks!
Just like going to see a movie at the theater, you can't get the full experience without the popcorn and candy … besides, it makes it seem like more of a special treat! There's just something about the combination of salty and sweet that makes it that much more satisfying.
Most nights, I make popcorn on the stove using a bit of coconut oil and salt but as the temperatures get cooler and the holidays get closer … I step my snacks up a notch! The kids start asking for my "famous moose munch" not long after Halloween. It's a combination of popcorn (in this case drizzled with chocolate), FLIPZ® chocolate covered pretzels, corn chex and peppermint chocolate covered candies.
The combo is downright addicting, but I make a TON of it so we can give it out as gifts to friends and family each year. What we don't give away, we use for movie night! The limited edition holiday pretzels are our favorites! White chocolate candy cane snowflakes are a huge hit here, but this year I am on the hunt for their FLIPZ® Chocolate Mint pretzels! Think I'll surprise them with a little mint chocolate chip ice cream sundae bar for our next movie night, sprinkle a few of those bad boys on top. Daddy will love that!
Step 5. Take turns
We know a lot about taking turns in my family of 5, and family movie night is no exception. To make sure everyone is happy with the film selections we usually choose several titles as a family and then let the person whose turn it is decide which movie we will watch that night. Knowing it's your turn to choose the family movie is still a big deal around here.
Step 6. Make sure everyone is involved
I'm lucky that for the moment all of my children still love spending all their free time with me, but I realize that won't always be the case. By reinforcing that family movie night is something we all participate in, Mom and Dad included, we are setting the stage for how movie nights will be carried on as the kids get older. I imagine it won't be long before neighbor kids, close friends, maybe even girlfriends and boyfriends start taking up more of their time. And that will be ok with me, as long as they don't mind coming to the occasional movie night and I can still find ways to sneak in spending quality time together.
Step 7. Lights, Camera, Action!
A movie, isn't really a movie unless you are watching it in the dark! If you're not ready to go pitch black, turn off the overhead lights at least and use table lamps or fun lighting instead. We have a few of these solar lanterns that we LOVE, we set them around the kids pallet so they can still see their drinks and snacks and if anyone needs a bathroom break they can carry one with them.
If you REALLY want to up the awesome factor at your next movie night, consider one of these bliss lights. It's like watching a movie under the stars! Right in your own living room.
Here's a pic from the summer complete with solar lanterns, bliss lights, and tents in the living room
The most important rule to remember of all, is just to have fun with it! I'm all about making memories and I love the way family movie nights help me do just that.
Huge thanks to FLIPZ® for sponsoring today's post and helping make family movie nights more awesome. With all their fun flavors we'll never get bored and can keep switching up our movie night snacks to fit the theme and time of year.
Want to give FLIPZ® Limited Edition Milk Chocolate, Chocolate Mint and Candy Cane Snowflakes a try? Click here to find special offers.
Looking for a super simple gift idea to give a family you love for the holidays this year? Whip up a family movie night basket in no time, here's some inspiration to get you started!