Ok guys, I've got a confession for you.
I am a turkey-in-a-bag Thanksgiving kind of girl. That means my bird always comes out super moist and flavorful, but it also means I can't stuff my bird cause the stuffing just turns to mush. Sure, I know there are ways I could get around it … but I've found a much better looking alternative!
Are you ready for the coolest way to serve stuffing you've ever seen?
How gorgeous does this roasted squash look filled with a savory cranberry walnut stuffing and drizzled with sage butter?!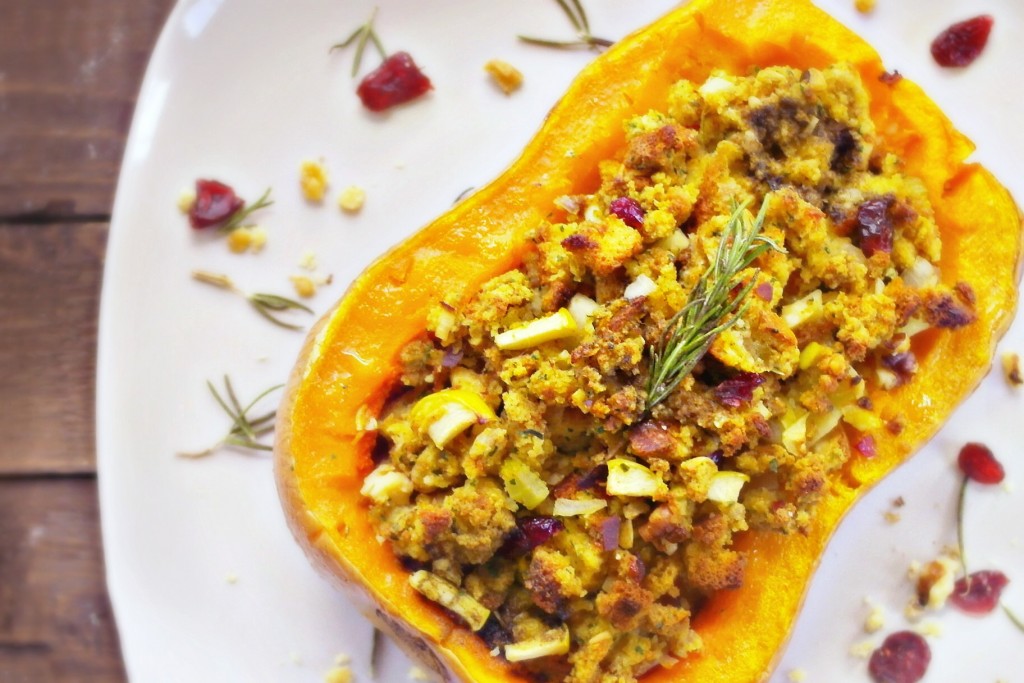 Gorgeous right? Makes me hungry just looking at it. And the coolest part, you could add a spoon and just scoop and serve straight from the squash OR our could slice the whole thing and serve it ever so elegantly like this.
Such a cool and fun way to update the traditional drab looking stuffing we all love so much.
Roasted Butternut Squash with Cranberry-Apple Walnut Stuffing
Cranberry Walnut Stuffed Butternut Squash
Ingredients
1 Butternut Squash, halved and seeds removed
Olive Oil for drizzling
Salt & Pepper
The Stuffing:
1 Box Savory Herb Stuffing, prepared
1 Stalk Celery, diced
1/2 Yellow Onion, diced
1/2 Apple, diced (you can leave the peel on!)
1/4 Cup Dried Cranberries, chopped
1/4 Cup Walnuts, chopped
The Compound Butter
1 Teaspoon Ground Sage
2 Tablespoons Butter, softened
Instructions
Preheat the oven to 350
Once the butternut squash is cut in half and has been cleaned, sit the halves on a cookie sheet.
Tip* If they will not stay level, you can cut a small slice off the backside where it rounds out so it will sit flat.
Drizzle with Olive Oil and a pinch of salt & pepper, cover with foil and roast for 30 minutes.
Note* The squash needs to pre-cook before stuffing
Heat all diced veggies, fruit and nuts in a skillet over medium heat for about 5 minutes to bring out some flavor and juices (they will cook through in the oven)
Mix into the prepared stuffing.
In a small dish, combine the butter and sage, mix well.
After 30 minutes, Remove the squash from the oven and raise the temperature to 425.
Scrape some of the squash out of the upper area to even it up with the lower end.
Spoon the stuffing into the squash and top with sage compound butter.
Return to the oven for 20 minutes or until stuffing is golden and crisping on top.
http://kidsstuffworld.com/2015/11/roasted-butternut-squash-with-cranberry-apple-walnut-stuffing/
If you decide to try this delicious stuffed squash this year, please let me know! I would love to see how it turns out and hear how your family likes it. If you care to share a pic on Instagram or Facebook, tag it #KSWeats and we'll check it out and show you some love!
More holiday meal ideas coming your way! In the meantime, check out what we've been saving on Pinterest
Follow Stacy of KSW's board On the holiday table on Pinterest.
If you like this post and would like to see more like it, please do us a favor and share in on Facebook, Pinterest or whatever social media platform you love most. Thanks so much!