It's a little ironic that I'm sharing this recipe with you, meanwhile I have 4 traditional pumpkin pies heavily gluten-laded freshly baking and filling my house with the aroma of fall right now. But that is precisely the reason I think this post needs to exist!
What about those of us who can't tolerate those delicious, straight from the freezer or out-of-the-can holiday pies your Uncle Jim and Granny bake oh so well? Well, for those of us who can no longer tolerate dairy, or gluten, or just choose to live a vegan or vegetarian lifestyle — I give you a tasty alternative you can bring to your next holiday gathering!
This one's for you sis, we can enjoy it together over the holidays!
No Bake Vegan Pumpkin Pie w/ Gluten-Free Pecan Date Crust
We'll start by showing you how to make this incredibly simple & tasty, gluten-free pie crust made with pitted dates, pecans, oats and a little pumpkin pie seasoning for extra flavor! Have you ever tried a LARA bar? Cause that's basically what this crust is. It's a big difference than the pie crusts your used to, but very tasty in it's own right!
First, pulse your ingredients in a food processor until finely ground like this:
Then, press the mixture around the edges of a lightly greased pie pan to form your crust
Since this recipe is no-bake, you'll refrigerate in between steps allowing things to set and settle. While the crust is chilling, let's make our filling! (Ha, see how I did that … shameless, I tell you)
Note: This filling is heated on the stovetop, which I think just helps meld all the favors even better! But you can easily do this step a day in advance to save yourself some time, then just pour and chill the day you want to serve.
Once the mixture has been heated and then cooled for at least 2 hours (or overnight), spoon the filling onto your pie crust.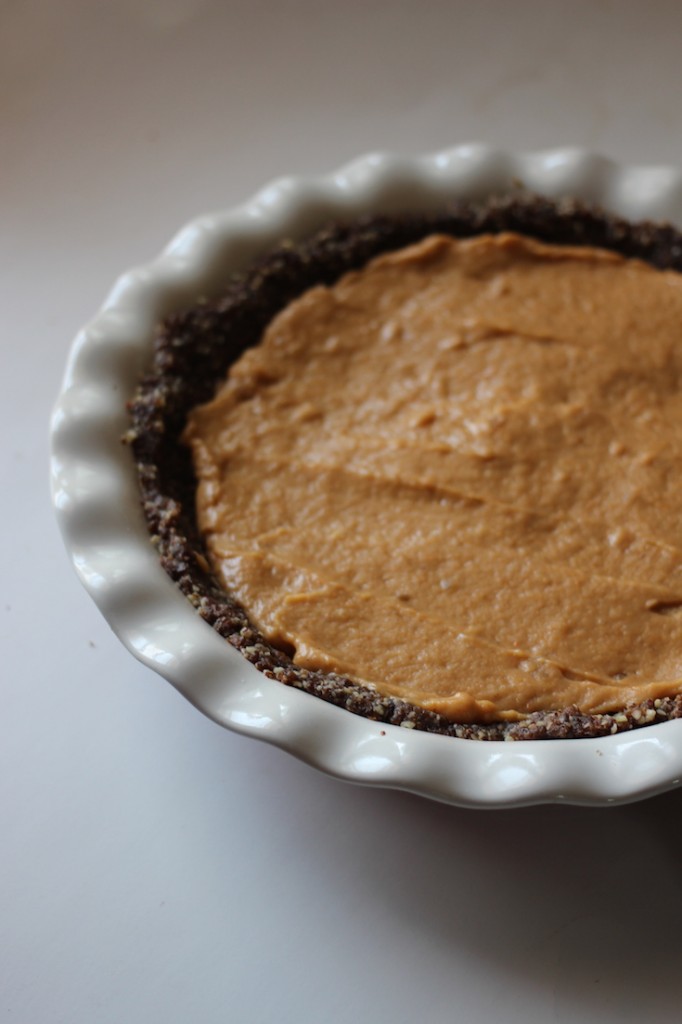 Now let the whole thing chill again while the rest of your holiday meal bakes and cooks. Finally, dish up and enjoy! Doesn't that look great?
We've included instructions on how to make real coconut whip cream below too!
Vegan Pumpkin Pie Recipe with a Pecan Gluten-Free Crust
Ingredients
CRUST

2 cups pitted dates
2 cups raw pecans
1/4 cup oats
1/2 tsp pumpkin pie spice

PUMPKIN FILLING

1 cup pumpkin puree
3 1/2 Tbsp cornstarch
1/3 cup sugar - coconut sugar or white
1/2 tsp pumpkin pie spice
1/2 tsp sea salt
1 2/3 cup almond milk
1/2 tsp vanilla extract

COCONUT WHIPPED CREAM

1-13.5 oz can full fat coconut milk, chilled overnight
2-4 Tbsp icing sugar
1/2 tsp vanilla extract
Instructions
Instructions
CRUST INSTRUCTIONS

Combine all ingredients in a food processor until a dough forms. (About 2 minutes.)
Lightly grease a pie plate, and then press the crust dough into the edges of the pie. Ensure that the dough is a uniform thickness.
Smooth the edges however you prefer, and cover with plastic wrap.
Refrigerate.

FILLING INSTRUCTIONS

Place cornstarch, sugar, pumpkin pie spice, sea salt in saucepan and stir until combined.
Add pumpkin puree and milk, and stir until thoroughly combined.
Heat gently over medium heat, stirring or whisking often.
Cook until slow bubbles form and the mixture thickens to coat the back of a spoon.
Remove from heat.
Stir in vanilla and transfer to a glass bowl. Cover with plastic wrap, placing gently on the surface of the filling to prevent a film from forming.
Refrigerate 2 hours or overnight, until set.
When ready, pour the filling into the crust and spread with a rubber spatula to smooth. Let it chill again for 2 hours, or overnight.

COCONUT CREAM INSTRUCTIONS

Place your mixing bowl in the fridge or freezer to cool before attempting this tricky coconut cream.
Scoop the solid coconut milk into your bowl (leaving the liquid in the can) and begin beating on medium speed. You may need to add some cream of tartar, cornstarch, or tapioca flour if your kitchen is a bit humid and the cream is refusing to thicken.
Once thickened, about 4 minutes, add vanilla and desired amount of powdered sugar.
(If not serving right away, cover and refrigerate.)
http://kidsstuffworld.com/2015/11/no-bake-vegan-pumpkin-pie/
Have another family favorite you'd like to see done vegetarian, dairy-free or gluten-free? Let us know in the comments below and we'll do our best to share a tasty alternative with you as quickly as we can.