Fall is undeniably my favorite season of all. Sure, it might be because my birthday is in October, or that growing up that's when the fair came — I LOVE THE FAIR!!, or high school football, or that my fall uniform allows me to walk around in leggings and scarves and comfy boots and call it a day. Maybe it's that I can get away with sipping hot cocoa pretty much any time. Whatever it is, I love, love, love this season. So much so I always want to gather friends, family and whoever else will join me to celebrate my favorite time of year.
With that idea in mind, here are some truly fabulous ways to throw the best fall party ever. These ideas work all season long and would even make for a magical Thanksgiving gathering or harvest party.
Nothing says fall like pumpkins, but these handprinted and stenciled pumpkins are truly special works of art. Use them to create a special atmosphere at your party and then keep them for next year or hand them out to guests when they leave. If you use faux pumpkins these can be gifts that last a lifetime! I've also included a picture of real pumpkins with little leaves decoupaged on that are undoubtedly simple to make, but really striking as well.
I'm a huge fan of decorating with things we find in nature and having light everywhere! Simple votives from recycled jars wrapped in burlap and twine with a colorful leaf tucked inside make lovely votives and are the perfect way to light your tables or even grouped together to create low-cost, simple luminaries leading to your event.
Note: I recommend flameless candles when using these outdoors or near children
For simple centerpieces, that can also double as favors these mini pumpkin succulent planters really do the trick. Dot your table with them and throw in a few votives here and there for a rustic, homespun effect that looks really elegant.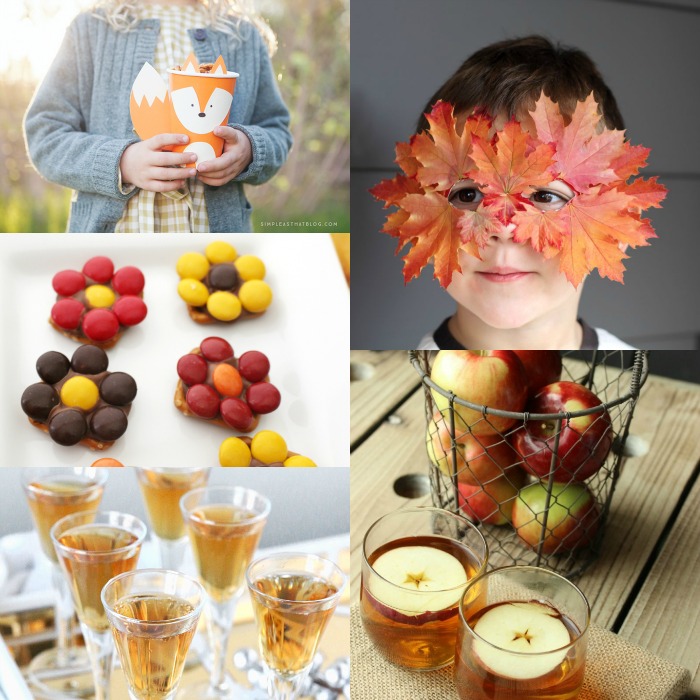 I love to have a few activities for the kids laid out just in case and these leaf masks are simple enough to do anywhere. Kids can either gather their own leaves or you could supply some artificial ones as well. After they're done, you'll have leaf fairies and sprites running all over. What could be cuter?
Having some trail mix in these adorable woodland creature cups with some warm apple cider (
If you're feeling extra ambitious or are sharing the workload of the party with a friend, these apple cider donuts would be an amazing treat, but if you simply don't have time to bake these flower pretzels are super sweet and take just minutes to make!
For the grown ups, butterscotch martinis look fancy and taste great, a nonalcoholic alternative for kids and adults who don't drink would be cream soda!
A fabulous fall party doesn't have to be difficult, it can be as simple as just being outdoors together. Gather your guests, place some chairs around the fire and if it's chilly provide some throws, and set out pre-made supplies for your guests to make s'mores.
Doesn't this sound like a great way to spend an afternoon with people you care about? More simple party ideas coming your way soon.