You'll love this kid-approved afternoon craft project from Design Improvised,  such a sweet way to store and display all those LEGO minifigures!
Do you have a LEGO obsessed kiddo at home? Or maybe one that has figurines of their favorite characters all over the house? Then I have the perfect kid-approved project for you! This colorful shadow box is a fun way to show off their smallest possessions, such as my daughter Stella's prized collection of LEGO Friends minifigures!
To make your own, all you need is a plain wooden shadow box, some bright craft paints, and your child's imagination. Craft stores and thrift stores are great sources for inexpensive shadow boxes. We found this one at the Goodwill for $3.
I let Stella run with this craft on her own. She picked out her favorite paint colors and even came up with the idea of lining the outside edges of the shadow box with washi tape – this craft blogger mommy couldn't be more proud!
Stella used thin washi tape for the center dividers of the shadow box, and regular washi tape for the thicker outer edges. If you can't find thin washi tape, you can always trim your washi tape to the size you need.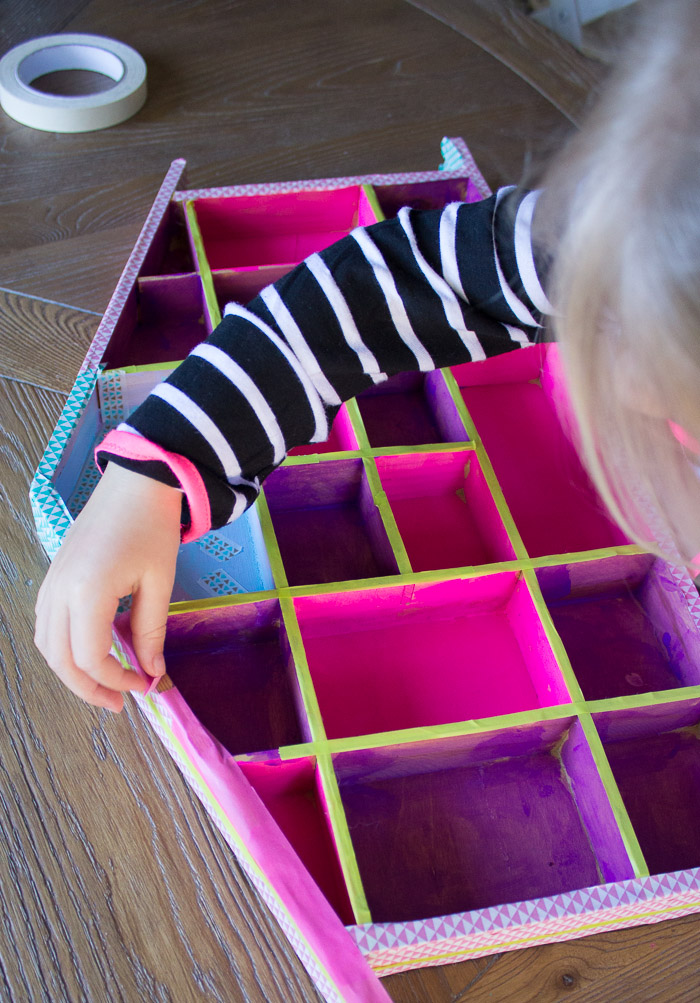 She worked on the whole project by herself. The results were definitely more fun than if I would have tried to intervene!
We hung the new LEGO Friends display in the playroom with a couple 3M Command Strips. It is right at Stella's level so she can easily grab her Lego Friends when needed for a trip to the Heartlake Shopping Mall or LEGO Friends Pet Salon!
Editor's Note: Way to go Stella!! We love the way your dollhouse turned out. In addition to being crafty, Haeley is also an incredible interior designer with killer organization skills. Just look at the rest of Stella's colorful playroom and all these great storage ideas!
If you enjoyed this post, don't miss a few of my favorites: Haeley's colorful kids art gallery, her DIY painted kids teepee, or these super cute pom pom balloons.
Haeley is the author of
Design Improvised
, a blog dedicated to easy DIY home decor and entertaining projects that can make a big impact! Almost all the DIY projects on this blog can be done in 1-2 hours for under $20! Her work has been featured by Martha Stewart, Better Homes and Gardens, Good Housekeeping, and Buzz Feed websites among others.
Latest posts by haeley giambalvo (see all)