It's been months since we've shared a weekly meal plan with you and boy are we excited to bring this feature back! It's become not only a reader favorite, but also a huge help at home too.
If you're new to these meal plans, you would typically find a collection of healthy, and easy meals to make for your family that hopefully don't take up too much time on weeknights. But this week is a little different for us. The kids have been sick for weeks and their appetites are just starting to come back, add that to the fact that it's just me and the kids this week and I've giving them complete control over our dinner plans this week!
Will it be a disaster? Actually, No.
Here's what happens at our house when the kids choose their own meals for a week: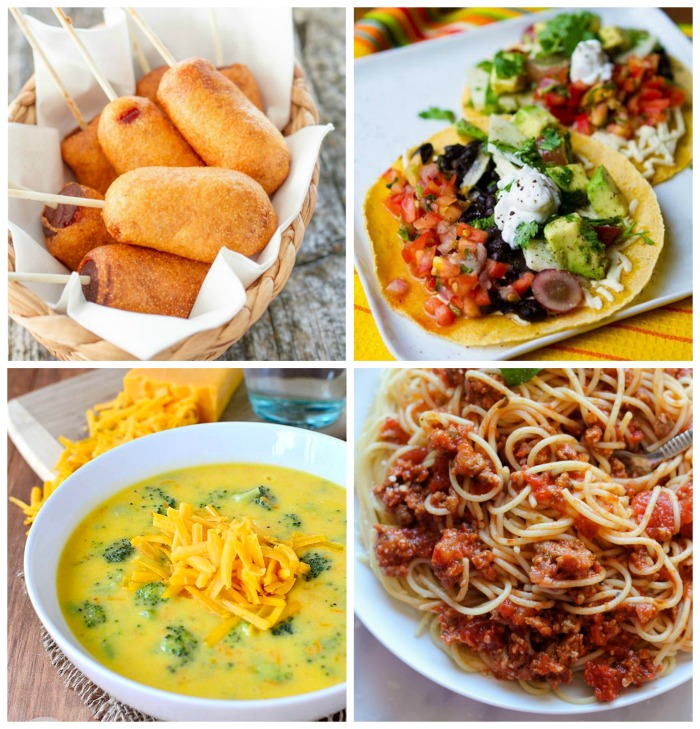 Monday
Corn Dogs and Macaroni & Cheese
This was a given. It's kind of a kid classic around here and if I want to have some control over what we're eating, I can modify this recipe for homemade corn dogs to suit our needs.
* I'd choose nitrate-free hot dogs that are labeled gluten-free. Oscar Meyer makes some that taste just like the ones the kids love and I'd also ensure my cornbread mix was gluten-free by subbing Red Mills all-purpose Gluten-Free flour and a gluten-free cornmeal.
For the Mac & Cheese, I usually make my own and I'm sorry I haven't shared that recipe here before but I will add it to my list of upcoming recipes. Till then, here's one that sounds good. We just use regular milk instead of half and half, tastes just as good I promise! And no breadcrumbs, just because we're keeping it simple on Monday folks. This might seem like a complicated endeavor, but I've been making my recipe for so long I can make homemade mac and cheese probably faster than something from a box.
Photo Source: Jo Cooks (with recipe!)
Tuesday
Breakfast Tacos
Doesn't get any easier than scrambled eggs and cheese on a weeknight. Throw a few tortillas in the pan till they are warm and toasty, add filling then cover with salsa and we're all happy campers. Me even more so if I can jazz mine up with black olives, avocados and leftover pico de gallo from the big game.
I'll serve this with a side of fruit and have ourselves and easy weeknight dinner.
* Warning: There may or may not be bacon involved in this meal … depends on how tired I am on Tuesday.
Photo Source: Healthy Happy Life (with recipe!)
Wednesday
Dinner Out!
The kids requested a playdate with their friends one night this week. Happy to oblige since I need some adult conversation too and this just happens to be one of my favorites families in the whole wide world.
Thursday
Spaghetti!
Everyone loves Spaghetti, right?! Not my kids, but they can be coerced into eating it if it simmers in a crock pot all day. None of the jar stuff for these sauce snobs. Strange right? Just happens I am starting a new job this week, one that means I'll be working from home a few days a week and I plan to take advantage of our slow cooker on days like these.
For my meal, I'll use the spiralizer I got for Christmas and add zucchini noodles to my bowl to up the nutrient anty just a bit. Love zucchini noodles!
Photo Source: Iowa Girl Eats (with slow cooker recipe!)
* More info about the new job coming soon.
Friday
Family Pizza Night!
Thank goodness for Fridays! By this time in the week, all I want to do is crash on a pallet of blankets on the floor and watch movies with my family. Thank goodness they're still in to the same things I am! Wonder what movie they'll pick?
My mother in law left me a coupon for Mama Mary's Gluten-Free Pizza Crust , they're not bad and make dinner a breeze so I'll make myself one of these and everyone else just a normal Mama Mary's crust. Good for me because now I can add crazy ingredients like pineapple and jalapeño to my pie! Yum.
Saturday
Leftovers
By this time in the week, I'm sure to have a fridge full of food so we'll make a game of it and serve dinner buffet style letting the kids pick through which leftovers they want for dinner. Maybe play a few games together afterwards.
Sunday
Broccoli Cheese Soup
I love a good soup and Sunday's were practically made for them. I've been perfecting my own gluten-free "cream of" recipe and I'm excited to try it in a Broccoli Cheese Soup. I don't have a recipe to share with you, but this one I found on Pinterest looks pretty amazing.
Photo Source: Iowa Girl Eats (with recipe!)
That's it for us this week folks! What would your kids choose if they were picking dinner for a week?