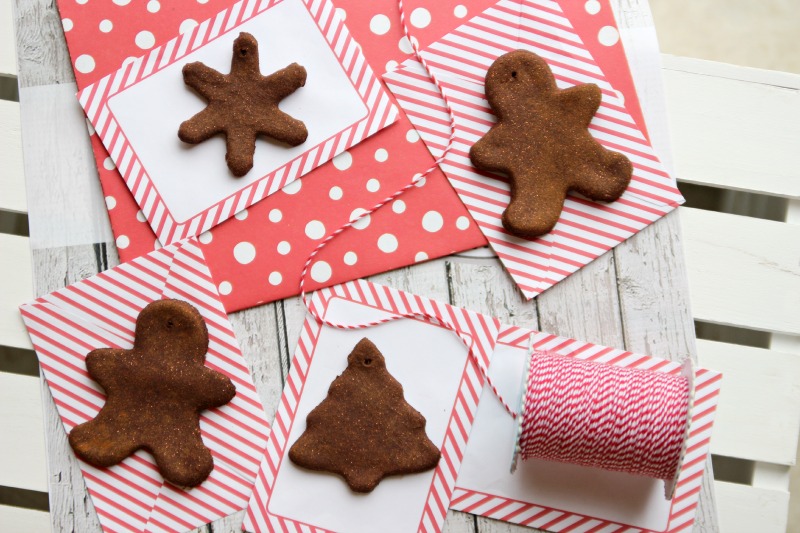 If you've been keeping up with us on Facebook, then you know we made homemade cinnamon ornaments for the first time this week.
And apparently, we did such a great job … that both my husband and my dog can't keep their paws off of them!
One of our gingerbread men lost his leg in what I'm sure my husband thought was going to be a tasty afternoon snack, but was sadly disappointed to figure out was actually just cinnamon, applesauce, glue and glitter! Lots and lots of glitter.
To make these handmade ornaments we used the cinnamon dough recipe we found on Imperial Sugar, but added glitter to make them even more fun!
Here's what we did:
– Combine cinnamon with clove and nutmeg in a medium sized bowl.
– Mix in glitter.
– Stir well, then add applesauce and glue.
– Work by hand to form smooth, clay-like dough.
– Roll your dough to about 1/4 inch thickness on parchment paper.
– Cut out holiday shapes with cookie cutters.
Tip: We found it easier to remove the surrounding dough and leave the cutouts where they were, then just move the parchment paper right to the baking sheet and into the oven.
– Don't forget to add a hole in the top for a ribbon with a straw or toothpick.
– Bake at 200 degrees for 2-3 hours until dry and hard.
– Tie with a ribbon and hang on your tree!
Ta Da!
Didn't they turn out cute? I'm realizing the irony now … I should have taken a picture of the one with the big bite out of it!
I may just have to add that in later :)
We've partnered with the folks at Imperial Sugar to bring you fun ideas and inspiration over the holidays. We hope you like the projects we've shared with you so far, and check out all the great ideas they have over on their website too.
Follow Imperial Sugar's board Christmas Recipes on Pinterest.

Follow Imperial Sugar's board Christmas Art Projects, Printables & Gifts on Pinterest.