Did you know National Chocolate Pudding Day is this month? 26 June to be exact … and that sounds like a delicious holiday worth celebrating to me! In honor of Chocolate Pudding Day, we put together this list of 26 ways to make pudding more fun.
Pudding tastes delicious all on it's own, but you can turn an everyday snack into a truly, special treat just by adding fruit, candy, sprinkles or other toppings you probably already have at home.
Make simple pudding more fun with these add-ins:
• Cookies & Cream
Sprinkle crushed oreos over chocolate or vanilla pudding
• Stacy's Favorite
Chocolate pudding, with slivered almonds and whip cream. Sprinkle some cinnamon on top for an added delight.
• Blueberry Walnut
Spoon some wet walnuts (from the ice cream aisle) over vanilla pudding, top with blueberries
• Rainbow Sprinkles
Everything is better with sprinkles, pudding included
• Oatmeal Raisin
Crumble some fresh-baked oatmeal cookies over vanilla pudding
• Banana Split Pudding
Place a banana spear in a small dish, layer with Kozy Shack® Vanilla & Chocolate Pudding, top with a dollop of fresh whipped cream, and a maraschino cherry.
• Rice Crispy Treats
If you can keep them around long enough break them up and add them to your pudding
• Dirt Cake Pudding
Crushed Oreos and Gummy Worms — have you seen these? Perfect for playdates, parties, or a fun afternoon treat
• Banana Pudding
Place layers of vanilla wafers, sliced bananas, vanilla pudding and whip cream for treat that's almost as good as the banana pudding grandma used to make
• M&M Pudding
M&M mini's are my favorite for snacks like this. Like round little chocoatle sprinkles with a candy coated shell
• Tropical Pudding
Dried tropical fruits like pineapple, mango or apricot chopped into bite size pieces and mixed with dried coconut.

Shown here: Vanilla Pudding w/ sprinkles, Chocolate Pudding w/ crushed thin mints, Vanilla Pudding w/ mini Reese's Pieces, and Chocolate Pudding w/ bite size chunks of kit kat
• Reese's Pieces
Did you know Reese's Pieces come in mini!! That's them in the photo above and they are scrumptious with vanilla pudding, trust us
• Trix Surprise
Those round little balls look great on top of pudding
• Island Nut
This is my favorite combo for pudding and frozen yogurt — toasted coconut and peanut m&m's
• S'mores Pudding
Chocolate pudding with crushed graham crackers, chocolate chips and mini marshmallows
• Mint Chocolate Pudding
Tiny bits of Thin Mints sprinkled over chocolate pudding
• Reese's Peanut Butter Cup
You could put peanut butter cups on top of anything and call it dessert. Enjoy this with chocolate or vanilla
• Rocky Road Pudding
Add peanuts and mini marshmallows to chocolate pudding
• Sliced Strawberries
Try adding a bit of sugar and a dash of OJ to the strawberries before adding them to the pudding
• Chocolate Covered Raspberries
Chocolate Chips and Raspberries – works for any pudding flavor
• Twix
Twix taste good with everything
• Granola to Go
Add a little granola to a snack pack and call it good
• Sliced Bananas
• Fruity Pebbles
Like colorful, fruity sprinkles for your pudding
• Kit Kat
Chunks of kit kat mixed with pudding — yes please!
• Polka Dot Pudding
Vanilla Pudding w/ Chocolate Chips
I usually make all of our cookies and treats myself, but Kozy Shack® Pudding is pudding made right—with just six simple ingredients. I feel good about purchasing this brand and feeding it to my family.
Bonus: Kozy Shack® Puddings are also gluten-free!
How can you celebrate National Chocolate Pudding Day?
Obviously, you're going to need to eat some pudding!!
After that:
– Share this post so others can join in the pudding love fest; I made a snazzy pinnable image just for you.
– Enter the Kozy Shack giveaway below, you'll be on your way to pudding heaven in no time.
– Get creative with these ideas or create your own pudding concoction. Let me know how you family is mixing it up by tagging me in an image on instagram and adding the hashtag #puddinglove. You can find me as StacyofKSW on Instagram, let's be friends even if you aren't sharing pudding love stories!! but I'll be watching for your tasty creations just the same.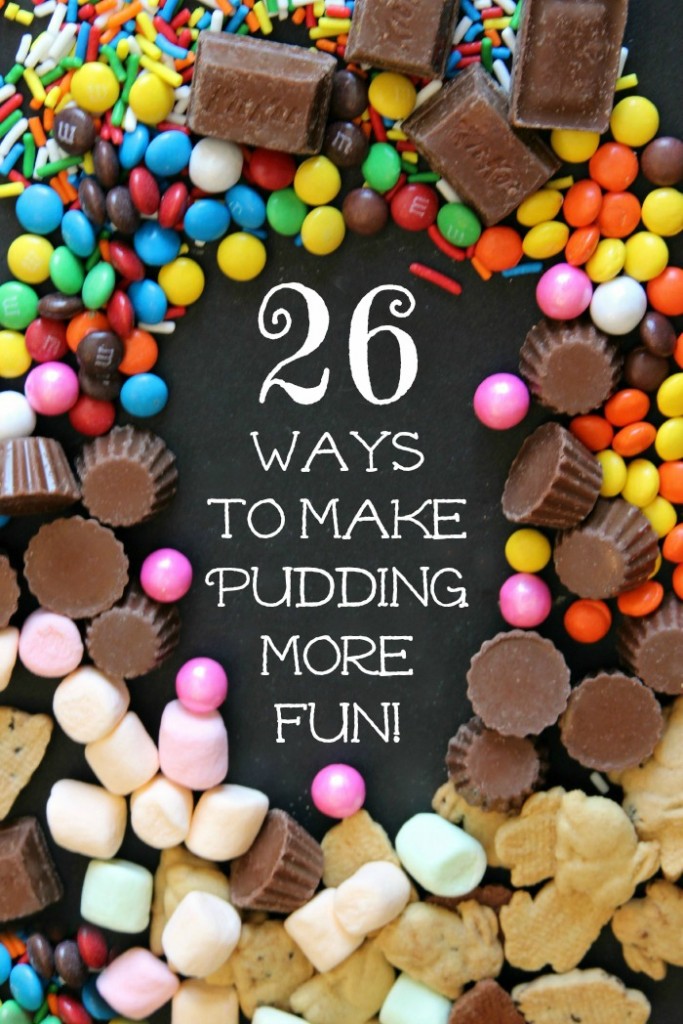 Big thanks to Kozy Shack for sponsoring today's post.