After spending a few days away from the kids last week, I am all about doting on them even more than I usually do right now. I think a week's worth of meals I know they will love is just what the doctor ordered. Hopefully your kids will like many of these recipes too.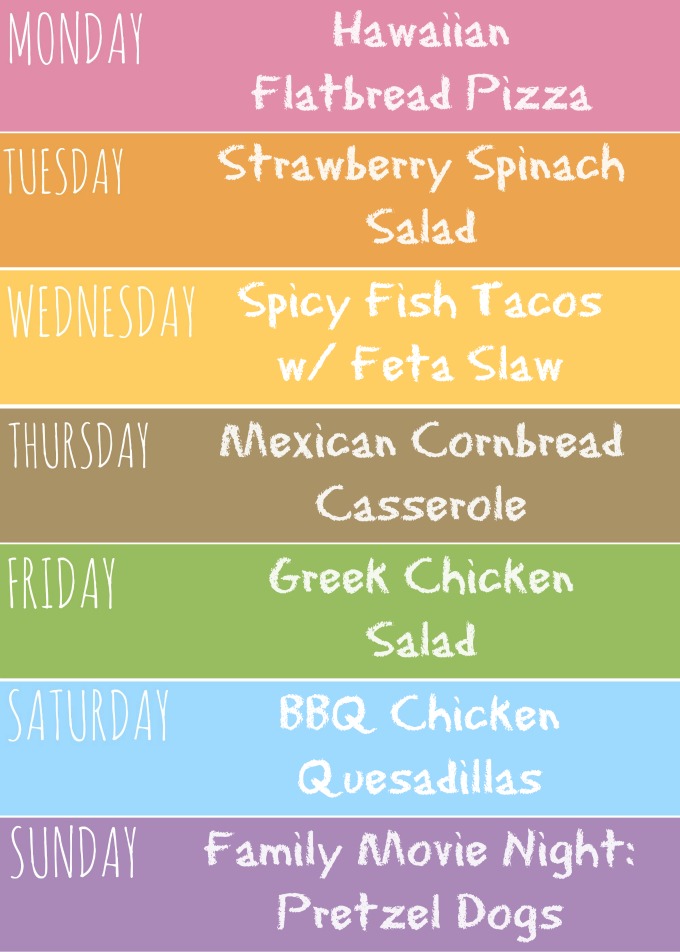 Recipes Kids Love
Monday
Hawaiian Flatbread Pizza
Everyone loves pizza, and pineapple but when you combine the two something magical just happens. We like the pairing best on a crisp thin pizza with lots of melty cheese. Canadian bacon – maybe, we may even do real bacon … who knows! In a flatbread combo, I can add jalapeños to mine while keeping the kids pizzas less spicy.
Tuesday
Strawberry Spinach Salad w/ Walnuts
No one can resist the flavors in this tasty salad perfect for spring. I make my own vinaigrette each week and keep a jar in the fridge. I've mentioned the recipe before here.
Wednesday
Spicy Fish Tacos w/ Feta Slaw
My kids have all gone nuts for fish tacos. Seriously, they are asking for them every night. I'm sure you've seen them on our menus quite a bit lately, but when they are asking for something as tasty and healthy as fish tacos … you just go with it. My eight year old has perfected his recipe and I will do my best to write it down for you guys this week so I can pass it along. The feta slaw we can't live without is a copycat version of the slaw from Zoe's kitchen, we found it here.
Thursday
Mexican Cornbread Casserole
This is a meal I use to eat as a kid. Browned taco meat, we'll use ground turkey layered in between fluffy layers of cornbread with or without cheese and a can of rotel diced tomatoes. That's the way I ate it as a kid, but my family prefers just the meat and bread … covered in ketchup once it's been baked till golden brown on top and cooked all the way through. This is simple to throw together, but typically takes much longer than expected to bake all the way through.
Friday
Greek Chicken Salad
Cucumbers, cherry tomatoes, feta, olives and greek style chicken – all things my kids love. Pair it all together in a big salad bowl, top with a homemade salad dressing and serve with parmesan twists and you've got one happy, healthy family.
Saturday
BBQ Chicken Quesadilas
We could probably eat quesadillas and/or BBQ every day of the week so this is just combining two of our favorites and calling it a meal. We'll munch on these and then maybe try a lemon sherbet recipe I came across this weekend I am dying to tell you about.
Sunday
Family Movie Night: Pretzel Dogs
I think we need a little more Frozen in our life, we'll make a batch of these pretzel dogs and some homemade brown rice (GF) mac and cheese and pile together on a pallet of blankets on the floor picnic style. I'm excited for the weekend already!
If you have any questions about the recipes or meals we're making, please ask in the comments below or send me an email. Happy to help any way I can.
Stacy is seeing the world in a whole new way – through the eyes of her children. She writes about the little things, the big things and all the "stuff" in between at Kids Stuff World.