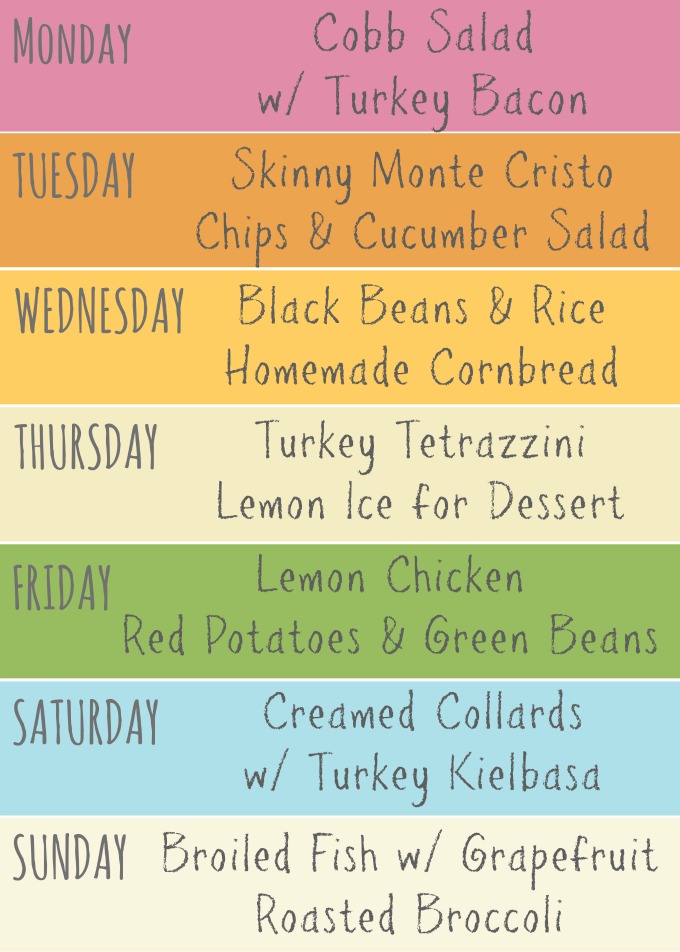 It's hard to believe Spring Break came and went so fast. We had a wonderful week spending time together and getting outdoors as much as we could. I didn't work very much while the kids were out of school, and I have two trips coming up soon, so I will be super busy preparing these next 2 weeks. To help keep thing simple on the home front, I'll be turning to some easy, but still healthy meals to keep my time in the kitchen to a minimum.
Weekly Meal Plan 17-23 March
Monday
COBB SALAD w/ TURKEY BACON
I like to start the week off with a big green salad. Kinda helps me get the whole week on track. Since my family still craves meat and something hearty, a cobb salad is the perfect compromise. They'll get plenty of protein in the form of boiled eggs and turkey bacon, and I'll satisfy my veggie cravings with fresh tomatoes, avocado, and green onions. This salad is plenty filling on it's own, so we will forego the cheese today.
Tuesday
SKINNY MONTE CRISTOS
I worked at a small deli for a couple years in high school. Every Thursday a little old lady would come in and order a 1/2 monte cristo and unsweetened tea in a glass she brought in herself each week. She left me .50 cents each week when she left. Tonight we'll pay homage to that sweet woman who cared enough about a teen with no home to call her own to save up and give me a nice graduation present.
A lot of people dredge this like French toast and then fry it like grilled cheese, but a thin sliced ham, a good melty cheese, and some dijon and/or honey mustard between a few slices of toasted bread are all we need to make this meal complete. If the toast doesn't melt the cheese enough, I'll pop it in the microwave for 5-10 seconds just for the oozy, gooey straight from the deli effect. Paired with Lay's potato chips and a side of cucumber salad for an extra special taste of home.
Wednesday
BLACK BEANS & RICE w/ HOMEMADE CORNBREAD
I found a recipe on Whole Foods for the Best Black Beans Ever and well, when you name a recipe something like that you are just asking to be tested. That's exactly what I will be doing this week. If I'm lucky, I'll work this up in the slow cooker so I can think about other things … like a super fun project that's happening on Thursday.
As long as I am making a big pot of beans, I may as well try my hand at a gluten free cornbread as well. Paired with some pico de gallo, shredded lettuce and cheese and we'll have a fine meal on our hands.
Thursday
TURKEY TETRAZZINI
Here's a new to us meal that sounds like our kind of comfort food, but isn't too too bad for us either. As long as we watch the amount of cheese that goes in, this should be a fine meal. I know I should have a side salad or something to go with this, but by Thursday I know I'll be pretty wiped out.
Recipe: Turkey Tetrazzini
Friday
LEMON CHICKEN W/ RED POTATOES & GREEN BEANS
No recipe for this one folks, it's as simple as it sounds. Lemon, garlic, olive oil, some spices and maybe a splash of the white wine I used in the black beans on Wednesday.
Saturday
CREAMED COLLARDS & TURKEY KIELBASA
Another new to us recipe, creamed collards & turkey kielbasa. I found the recipe in a Whole Foods flyer along with some coupons for the ingredients. I'll admit this is a bit of a stretch for my family, but I am hoping the sausage and creamy cheese will be enough to win them over. If they eat enough, perhaps I'll whip up some chocolate chip cookies or something special for an after dinner treat.
Sunday
BROILED FISH W/ GRAPEFRUIT & ROASTED BROCCOLI
A few of my girlfriends went to an amazing cooking class recently where they learned to incorporate grapefruit into their meals. I have been dying to try it ever since, so I'm going to give it ago with a meaty fish – like cod, or tilapia, or grouper or whatever is cheapest at my local market this week. I don't know exactly yet what I will do with this, but that's have the fun of experimenting in the kitchen.
If you have any questions about the recipes or meals we're making, please ask in the comments below or send me an email. Happy to help any way I can.