SIMPLE THINGS SUNDAY IS BACK!
and it couldn't have come at a better time.
I've spent the last month on a personal journey towards becoming more mindful. As I weigh carefully each of the priorities I have placed on myself, I realize even more how much #SimpleThingsSunday keeps me aligned with my goals of focusing on the moments that matter and making the most of our quality time.
There is nothing more important than the days we spend together.


Today was one of those days.
The special ones where even though things didn't go as planned, they ended up being far more extraordinary and rewarding than anything you could have dreamed up on your own. The kind of day when you are done, there is no other choice but to fall into life together once at home. Scarf down a quick dinner, curl up on the couch, maybe lay out on the floor on top of your Dad and just bask in one another's company until it's time to drift quietly off to sleep.
Signs of a day well spent,
and now I want nothing more than to wake up early and do it all over again.
Truly living every moment and experiencing all that these three little people have to offer at this wonderful time in their lives.
Do you have a simple moment you'd like to share?

Rebecca & I would LOVE for you to join us. You can share your photos on both of our blogs using the linky tool below or simply join us on instagram anytime using the hashtag #SimpleThingsSunday.
Me on Instagram // Rebecca on Instagram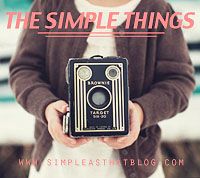 WHAT IS SIMPLE THINGS SUNDAY?
This weekly photo share is all about taking time to photograph the everyday details that make your life unique, beautiful, and special. We gather here each Sunday to share our photos, to enjoy the beauty found in the ordinary and to be reminded of just how important the simple things truly are.



Stacy is seeing the world in a whole new way – through the eyes of her children. She writes about the little things, the big things and all the "stuff" in between at Kids Stuff World.