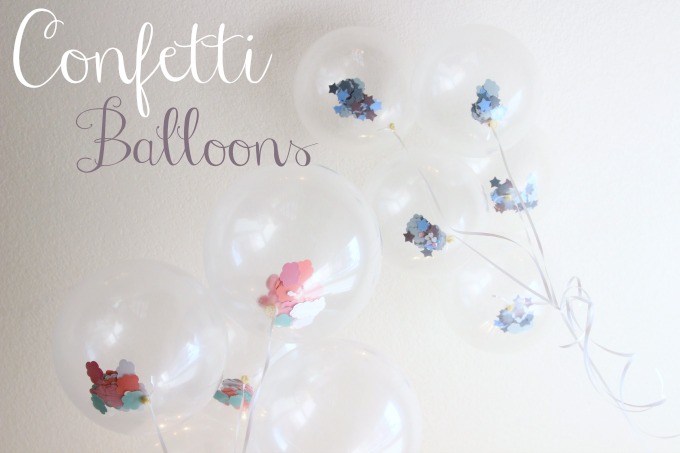 You're in for an extra special treat today! Not only am I sharing with you the simplest tutorial ever on how to make your baby shower, birthday party, or any other special occasion really pop using confetti balloons — but there's also a celebration going on in honor of a few ladies about to have babies whom I have grown to know and love.
Want that tutorial already? No problem, all you need is:
– some clear balloons (got mine at Party City, 12 inch)
– cardstock or tissue paper in the colors of your choice
– either a craft punch in your desired shape … OR the new Cricut Explore which I used to make almost 800 of these cutouts today!
– a helium tank (or access to helium)

Cut out all your shapes first making sure they are small enough to stuff inside the balloons. I cut mine into 1 inch squares. Once you have all your pieces cut, break them up into piles and sort out which colors and shapes you want to use where.

Use your fingers to get inside the balloon and stretch it open (just like putting out stockings or panty hose), then fill the balloon with your confetti.

Tip: It helps to have someone else around to help you stuff the balloons. The latex is hard to hold open and makes it difficult to do one-handed.

Once you are finished, blow the balloons up using the helium tank and tie closed. Add a coordinating ribbon and you're done.
Just because we are thousands of miles away from our friends, doesn't mean we can't throw an amazing surprise shower for them!
We started by checking out the mom-to-be's Pinterest boards and looking for common themes. It turned out Carla of Small + Friendly has been scouting out all things celestial for her little one, and Lacy of Living on Love has her head in the clouds, literally – dreaming up the most amazing vintage, farmhouse nursery with it's hint of florals, pinks and clouds of course.
So how does outer space and vintage floral work together you ask?
Well, the inspiration for the shower went a little something like this.

Sources: (Top) Black/White Cloud | Clay Cloud Mobile | Pink Cloud Hat | Moon Card | Cloud Bookshelf
(Bottom) Star Decals | Moon Clock | Aqua Hat | Cloud Pillow | Celestial Print
The confetti balloons were my contribution to our virtual shower, I made a bundle for each mama and will send a set along with my gift for each mama in case they want balloons to display after the babies are born.
Want to see what the other ladies came up with? Me too! This is so exciting, each mom will wake up this morning and have no idea all these projects were done especially for them. We have everything from hand drawn invitations to cocktails to soothing favors to adorable handmade clothing and cool wall prints. You'll have to see them all.
imagine gnats / Casa Crafty / Made With Moxie / Hideous! Dreadful! Stinky! / petit a petit and family / Rajovilla / Kids Stuff World / Elsie Marley / Buzzmills / A Golden Afternoon / My Life at Playtime / Salsa Pie / this heart of mine / Classic Play
but wait, there's still more!! What's a baby shower without prizes?
Well, Rachel from Imagine Gnats volunteered to be in charge of games and prizes. After you've seen and shared all the projects head over to Imagine Gnats and enter to win some really awesome stuff, like this:
ENTER TO WIN HERE