I'm excited to share this project with you and watch it grow over the season. I've learned over the years, while the holidays are supposed to be a time focused on giving, the true meaning of the holiday spirit seems to get lost in all those boxes and bags we bring home.
Bookmark this page and revisit it each day in December for simple reminders and daily inspiration of ways you can make a difference this holiday season. The posts will appear in the link up below each day as they we publish them., follow along and help us spread the word on social media by sharing our posts with the hashtag #spreadingjoy.
Let's make this a season to remember! Head on over to Inner Child Learning next to read the first post in the series (link below)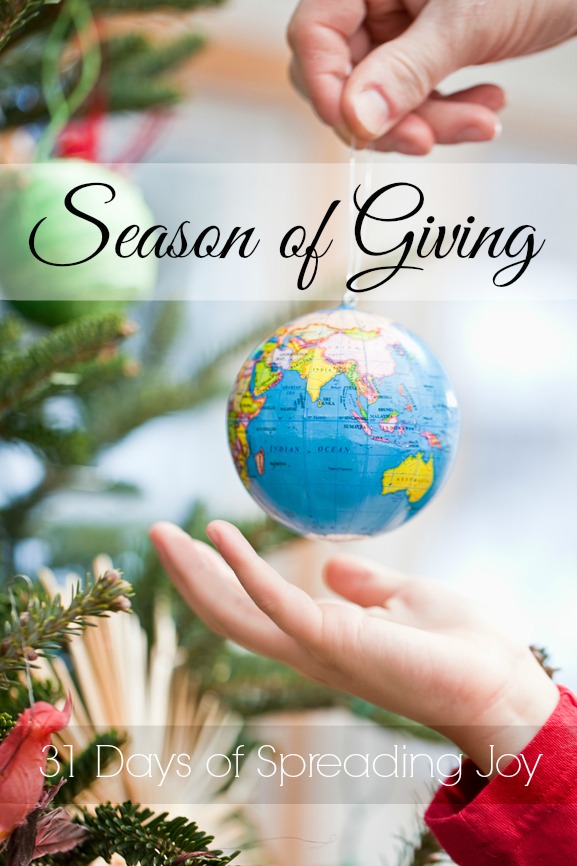 A Season of Giving: 31 Days of Spreading Joy
1 Dec: A Season of Giving: 31 Days of Spreading Joy
2 Dec: Holiday Service Projects for Kids
3 Dec : 10 Ways to Give on #GivingTuesday 
4 Dec: Advent Calendar for Spreading Joy
5 Dec: Cleaning Out for A Cause : Host A Gratitude Garage Sale
6 Dec: Books that teach Character: Castle on Viola Street
7 Dec: Charity Starts At Home (must see video)
8 Dec: First Week RoundUp
9 Dec: Raising Cheerful Givers
10 Dec: Family Volunteer Ideas for the Holidays
11 Dec: Activity for Kids: Friendship High Fives
12 Dec: Family Fun Activities to Give to Others
13 Dec: Acts of Kindness Towards Nature
14 Dec: Easy Ways to Spread Joy & Goodwill in Your Community
16 Dec: Ways to Help Families in the Hospital During the Holidays
17 Dec: Spreading Joy to Nursing Home Residents During the Holidays

Stacy is seeing the world in a whole new way – through the eyes of her children. She writes about the little things, the big things and all the "stuff" in between at Kids Stuff World.