Sometimes it's those little rituals we create for ourselves that feel the most comforting
Chocolate doesn't hurt either …
I've got a big day ahead of me and if I was home, you can bet I'd be enjoying my favorite breakfast/snack/meal of all — but since I'm not, and I can't I'll use this simple moment to reflect.
Reflect on how I feel when I'm at home, surrounded by my loved ones, eating our favorite greek yogurt treat and channel those feelings to keep me centered today.

Wish me luck! (Why? I'll be speaking here)
Wishing you all a #SimpleThingsSunday!
You can share your photos on both of our blogs using the linky tool below or join us on instagram using hashtag #SimpleThingsSunday.
Stacy on Instagram // Rebecca on Instagram
If you're new to Simple as That I'd love for you join us in this weekly tradition!
What is Simple things Sunday?
This weekly photo share is all about taking time to photograph the everyday details that make your life unique, beautiful, and special. Each Sunday we gather here to share our photos with each other. To enjoy the beauty that can be found in the ordinary and to be reminded of just how important the simple things are.
Just a few quick rules to play:
1. Grab a button and include it in your simple things post.
2. Link back directly to your simple things post not your blog/website.
No links to other linky parties, giveaways or craft projects pretty please.
This linky is all about the photos.
3. Be sure to pop by and visit at least 3 other links and leave a comment.
Leave as many as you can.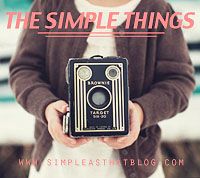 By linking up to the Simple things Sunday party you hereby give us permission to feature your photos + tell the world about your amazing photography talents. We'd love to showcase your work via social media and acknowledge what you're doing each week to capture the simple things!