For those of you looking for Top Pins of the Week, I apologize.
Please hang in there while we reorganize a bit
Things have been pretty chaotic around here. We've been struggling to stay in the moment, to hang on to summer, to stay connected as school starts and my work is expanding. I desperately want things to stay as much the same as possible … but nothing stays the same for long.
I've tried to fight it, but what's the point? I can't stop time, or even slow it down for that matter …, but I can cherish it.
Enjoy the moment. Capture it. Embrace it.
I need to slow something down. I'm starting here, from now on we'll be celebrating simplicity on Sundays. Sharing with you those simple things that tug at our heart strings, leave a mark in our minds, and inviting you to do the same.
I'm joining up with Rebecca of Simple As That to host #SimpleThingsSunday. We met through Simple Things Sunday almost 2 years ago, our simple stories and photos evolved into FB chats and private messages and now we are close friends.
We hope by starting the series again, we can help foster more online connections and genuine friendships like ours. I can't wait for the day when I finally get to meet Rebecca in person! Who knows maybe someday we can all meet together, wouldn't that be fun!
Rebecca is an amazing photographer with a fabulous little design shop as well, to kick off our series she created those amazing printables you see up there. Grab your own free download of them here. I'm so excited about them!
………………………………………………………………..

For this first week, I'm sharing one of my favorite ways to connect with my kids:
Spending time in the kitchen
You can find us here in our PJs, late into the mornings at least once during the weekend. We love creating new recipes and experimenting with healthy alternatives to sugar laden treats. I love that all 3 of them can get involved, and that we spend the moments we aren't pouring, stirring, or measuring singing and dancing together in the kitchen.
Sometimes these are the only moments I have where I feel the way I wish I felt every single day.
When we are all smiling, and laughing, (and snacking) and telling each other how much we love one another. Baking brings out the best in us, we all know it and we look forward to it. I hope that is a memory they carry with them to their own families in the years to come.
This guy is growing up. He's no longer dependent on me for things, he's reading recipes and doing measurements of his own. He baked this batch of gluten-free muffins all by his self this morning. They were amazing! Just like he is …. tonight we're making a meal plan — he's hoping to cook his very first full dinner for the family tomorrow night!
I'm a bit nervous, and excited. I know he can do it, it just signifies something I already know. My little boy isn't so little anymore.

Do you have a simple moment you'd like to share with us this Sunday? We'd love to see it!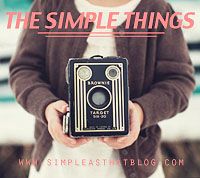 How to share your simple things photos:
[1] You can choose to join us for Simple things Sunday on my blog or on Rebecca's site. Come link up your photos from the week + enjoy what everyone else is sharing!
[2] You can also share your STS photos on instagram using hashtag #SimpleThingsSunday.
Stacy on Instagram // Rebecca on Instagram
By linking up to the Simple things Sunday party you hereby give us permission to feature your photos + tell the world about your amazing photography talents. We'd love to showcase your work via social media and acknowledge what you're doing each week to capture the simple things!