Summer has arrived, and in a big way! If you're anything like me keeping the kids happy, healthy, (busy), fed & cool are your top priorities right now.
Here's a few tricks on how I do all of those things at the same time.
1. Start the day a healthy way.
Smoothies are always my favorite way to do just that. They're fast, simple, tasty, and portable – meaning we can have breakfast on the go, if need be.
This cherry berry smoothie is a current favorite in our house, the kids love the color and the flavor, and I love that it's packed with anti-oxidants and probiotics – win, win for everyone!
Cherry Berry Smoothies
1/2 bag, frozen strawberries
1/2 bag, frozen peaches
1-1/2 cups, flavored Kefir (we love Trader Joe's Pomegranate Flavor)
1/2 cup cherry juice (we used Trader Joe's)
1 cup, unsweetened vanilla almond milk

Place all ingredients in a blender. Blend well until smooth. Add more liquid, or frozen fruit to achieve desired consistency.

Tip: You can make this a green smoothie, by blending liquids and a few handfuls of spinach first. Blend these well before adding frozen fruit to make it more appealing to the eye (versus chunks of spinach in your glass)
2. Enlist help.
Busy kids are happy kids, so I like to let my kiddos take turns doing jobs in the kitchen. One morning, one child will choose which flavor of smoothie we'll have that day, another will grab all the ingredients and get them set up on the counter, and the third gets to put them in the blender and press the buttons.
They also love taking turns choosing out which cups we'll use and what color straws everyone will get that day.
Divvy up your own tasks based on how many children you have helping out in the kitchen.
Happy, healthy, busy, fed & cool – check ✓
3. Snack time CAN be playtime too.
Who says you can't have a little fun with your food? Inspired by my children's love of play dough we brought their own cookie cutters into the kitchen and had a blast making watermelon cookies in these fun shapes.
Any cookie cutter will do, and you can use them to match any party theme or look you're going for. My kids ages 4 & Up had no problem making these on their own. (I just sliced the watermelon into 1 inch rings and let them make their own snacks.)
4. Make Once, Enjoy Twice!
Want to know another reason I love to make smoothies for breakfast? They make great frozen treats for later. We always make too much of our smoothies, but we pour them into individual serving containers and enjoy them for snack time or special after dinner treats every now and then.
They're so much healthier than ice cream, but the kids enjoy them just the same!
5. Notice the small things.
Summer can be so hectic, but it goes so very fast. Whenever you can try to take a moment, a few deep breaths, and take some mental pictures of what's going on around you: the bonding, the sharing, the way the light hits them in the afternoon, the feel of the grass under your feet. Bonus points if you can find your camera and capture a few of them along the way.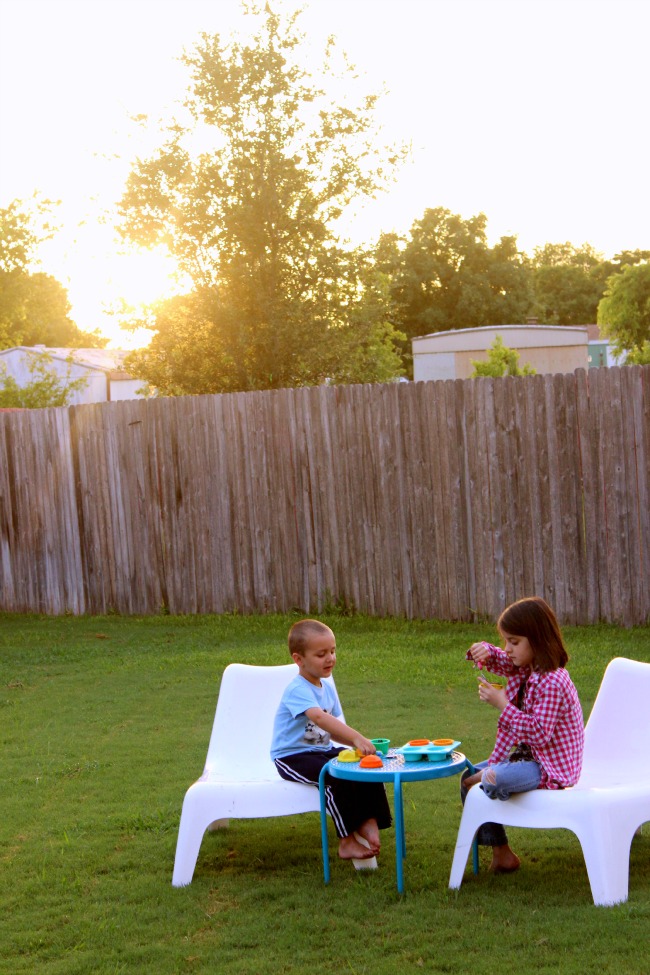 Summer is magic, remember what it felt like? Try to grab at least a moment of that back for yourself each day.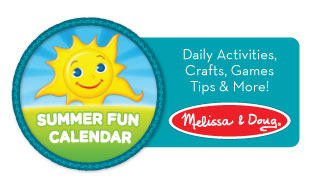 This post was created for use in the Melissa & Doug Summer Fun Calendar. All the ideas are my own, but Melissa & Doug did supply us with materials to make this great post. We hope you enjoyed it, featured in these shots you'll find: the mealtime set bundle, seaside sand cupcakes set, and the seaside sand cookie set. All of which are favorites in our home.