It's finally here! We've been looking forward to the Great American Backyard Campout all summer long. Counting down the days, practicing setting up our tents and even pretending to camp to prepare for this day of family fun.
Now that it's here, we thought we'd share some of our favorite ways to make hanging out together in the backyard even more fun!
For starters, every family event has some token dish or recipe that really makes the day. When camping in our backyard, we keep things simple by roasting hot dogs on the grill, whipping up a quick batch of lemonade or even sun tea (a personal favorite of mine). I can tell you all about sun tea another day … because right now, there are more important things to discuss — like these sun baked s'mores!
One good thing about living in Texas, I have a never ending supply of solar energy. I try to find ways to use it to my advantage until I can save up the funds to harness it in our homes. We're pretty good at brewing tea outdoors, but this was our first time using the sun to bake our s'mores.
We layered them out on a platter lined in aluminum foil, and wrapped them in another layer of foil. Then, I set them in direct sunlight on top of our stainless steel grill. When I came back for them about 90 minutes later, I found this ooey, gooey chocolately mess.
It was pure heaven! The dark chocolate my husband grabbed by mistake ended up making these my favorite s'mores ever and since we chose to leave off the top layer of graham cracker, there was high ratio of chocolatey marshmallow goodness … mmm, I can tell we're going to get really good at making these!
Note: It was over 100 degrees at my house when I started this experiment. If your marshmallows do not melt on their own and there are no nearby flame sources, no problem. Simply build a solid layer of grahams on a paper plate and pile the marshmallows on top. Pop them in the microwave for 10-15 seconds and then scoop off to smear on your chocolatey s'mores. Still every bit as delish!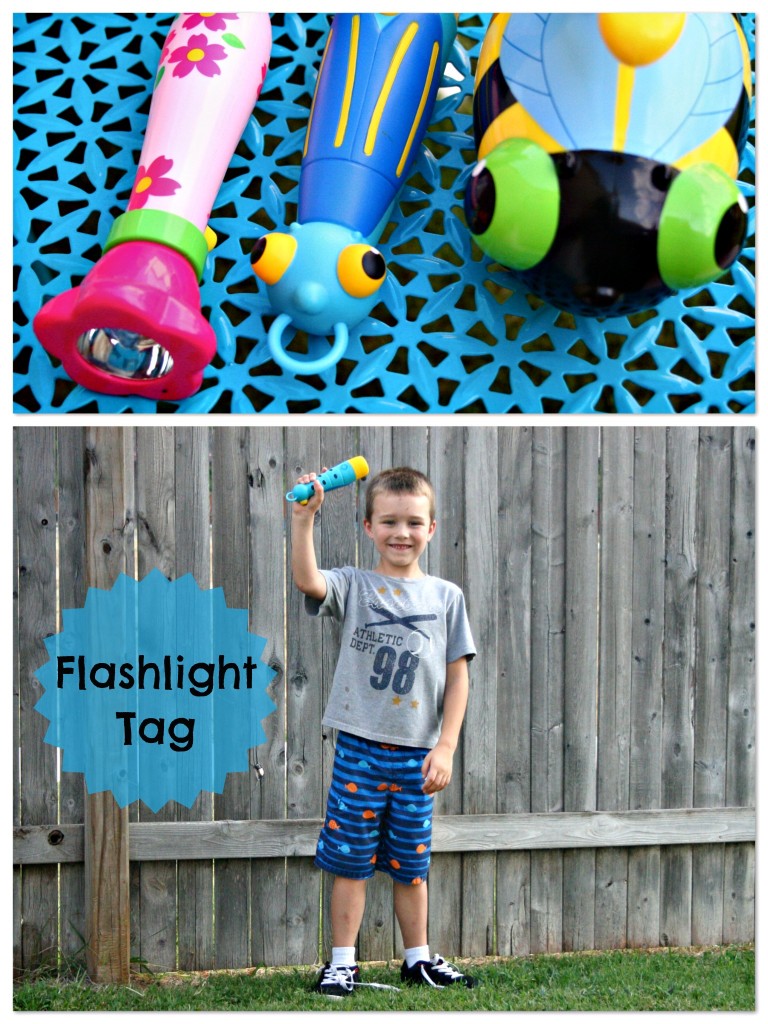 When the sun starts to fade, we wrangle up the kids for campfire stories (with or without an actual campfire) , a game of catch, playtime in the sprinkler, or Flashlight Tag!
To play Flashlight Tag: The person chosen to be "IT" will man the flashlight. Other players will run & hide. When the "It" person is finished counting (we usually go to 20), he searches for the others with the flashlight. If he finds one, he must shine the light on their body (never in their eyes we tell them) and call out their name. That person becomes "it" and the game continues!
Have you ever camped out in your backyard?
What games/recipes should we try next time?