I have quite the affinity for shared bedrooms. I love everything about the whole concept – sleepovers that never end, the closeness between siblings it encourages, the space it saves in your home, the lack of space for unnecessary junk in the room itself, the decorating potential … it all excites me.
Depending on who you talk to one might tell you I am an only child. Or, some might tell you I have more brothers and sisters than you can shake a stick at. Truth is, it's a little of both. I was adopted. Several times over. How does one get adopted several times over you ask? Painfully. Adoptions don't always work out, families get divorced or long for children of their own. Skipping from one family to the next until I found the one that was right for me made me much of the person I am today and sharing rooms with so many children during my time in foster care, transition homes and finally amongst my own inherited family made me love the concept of bunking with others even more. No matter how alone I felt on the inside, there was always someone there with me at night to talk with, find solace in and just be myself around. It's these positive experiences I hope to share with my own kids.
My children are small (4,3 & 1) and the oldest two share rooms now. If the rooms were a bit larger, I'd move all three of them into one room. UPDATE: I did! and we love it. If the house were larger … I'd have more children and move all of them into one huge bunk house of sorts. How, do we do it you ask? By keeping the bedroom a place used only for reading and sleeping. All of our toys stay in the playroom. Our bedrooms are a place we got for quiet time, for naps and for cuddling just before bedtime. This will change as they grow older, I'm sure — but for now it leaves me plenty of time to decorate their space in a truly unique way.
Over the next few weeks, I'll be asking for your help in decorating their shared space and I thought I'd use this post to open up the discussion. Let's talk about shared spaces a bit, how do you feel about them? How would you make a shared space work for both a boy and a girl. And of course, eye candy!!
via Domino Mag


via Garnet Hill


via Pottery Barn Kids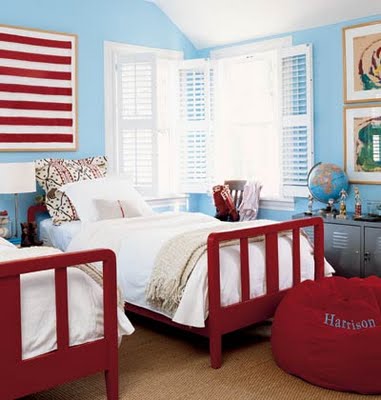 via Design Dazzle


Image via Simplified Bee
Ok, your turn!
Now you tell me, Have you ever shared a room with a sibling? Looking back on it now are you glad that you did? What are some reasons you will pair your children in the same room or even do whatever it takes to give them each a room of their own.
And as for the eye candy … Which one is your favorite? What do you notice about all of these rooms that makes them similar? What do you think is the secret to making a boy/girl room look cohesive and planned instead of mismatched and overloaded with colors and themes?
You might say ours is a list
buying essays
of atheists with attitude
Latest posts by Admin TheBloggerNetwork (see all)